GOMR is run on the highways and back roads of Alleghany County, NC. Some of the most breathtaking views of the Blue Ridge Mountains are right here. These are the roads we run. As the Head Gomer, I have personally run every mile of the route and know that it is challenging but spectacular. Sometimes I listen to music. Sometimes I want to hear the wind through the tall pines, the water rolling in the crisp mountain streams, and simply the quiet in this rural mountain setting.

Below is a map of the whole 104-mile loop. It will be completed once for the GOMR 1/2, and twice for full GOMR.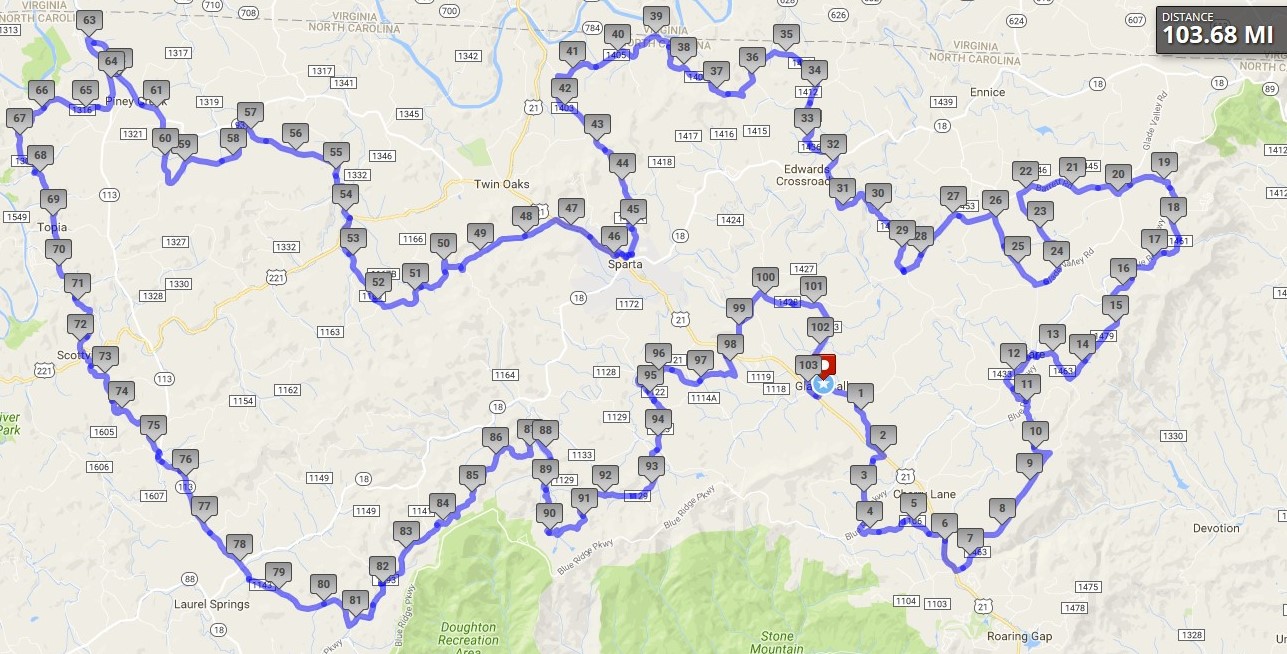 For an interactive map of the whole loop on Map My Run, click HERE.
A PDF of the whole loop with each leg can be found HERE.

Individual PDFs of legs:
LEGS 1/19 LEGS 2/20 LEGS 3/21 LEGS 4/22
LEGS 5/23 LEGS 6/24 LEGS 7/25 LEGS 8/26
LEGS 9/27 LEGS 10/28 LEGS 11/29 LEGS 12/30
LEGS 13/31 LEGS 14/32 LEGS 15/33 LEGS 16/34
LEGS 17/35 LEGS 18/36

Individual PDFs of Turn by Turn instructions (no map or notes). Great to download your legs to your phone for reference.

LEGS 1/19 LEGS 2/20 LEGS 3/21 LEGS 4/22
LEGS 5/23 LEGS 6/24 LEGS 7/25 LEGS 8/26
LEGS 9/27 LEGS 10/28 LEGS 11/29 LEGS 12/30
LEGS 13/31 LEGS 14/32 LEGS 15/33 LEGS 16/34
LEGS 17/35 LEGS 18/36